On a fall day in September, Department of Public Works crews from three towns on the Whale Pond Brook watershed assembled  in the new Long Branch Public Library meeting space.  They were there to learn from Dr Chris Obropta, Rutgers Water Resources Program.  The workshop, 'How to Design and Build a Rain Garden' was the first step in providing the ability of the towns to create their own rain gardens.     On Tuesday, October 15 the shovel hit the ground at the Ocean Township Community Pool entrance rain garden.  It was an exciting day and the beginning of a desire that began three years ago.  On October 16 the plants, purchased by the OT Environmental Commission were planted by volunteers from the Whale Pond Brook Watershed Association and Sara Mellor, Water Resources Program staff.  Stay tuned for more rain gardens to come on the watershed.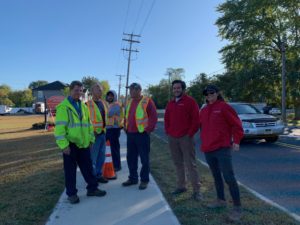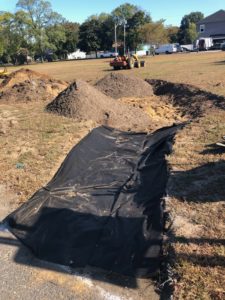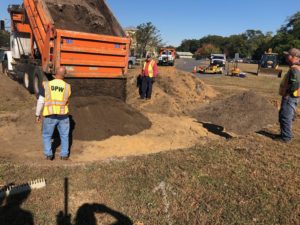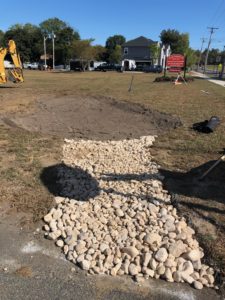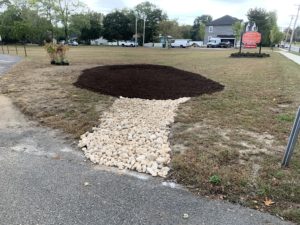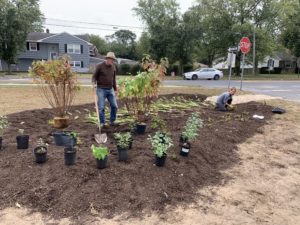 laying out the plants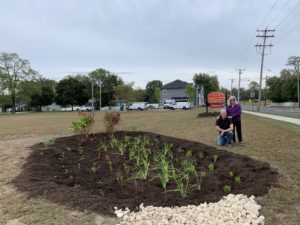 On Friday, October 18 the Whale Pond Brook Watershed Association and the Long Branch Green Team sponsored an event at Ross Lake Park. It was the first anniversary of the grand opening of Ross Lake Park.  The City celebrated by running raft rides to the park.  We had a rock painting table and tours of the all native shrub and pollinator garden. It was a fun day for the neighborhood.