Popomora Point County Park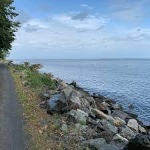 Join our cleanup to help keep our watershed healthy at Popomora Point County Park in Atlantic Highlands along the Henry Hudson Trail. The cleanup is on Saturday May 8th (10:00 AM-12:00 PM)!
Gloves and trash bags will be provided! Masks and social distancing are mandatory and we encourage everyone to pre-register for this event if possible. Thank you AmeriCorps and Eatontown Environmental Commission for working with us to help organize this cleanup! We hope to see you all there!!