THIS EVENT IS CANCELLED.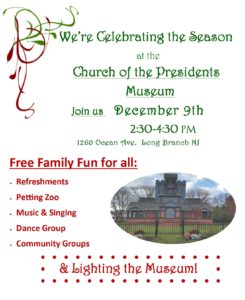 On Sunday December 3rd 12 volunteers came to Collins Ave, Ocean Twp  to clean up this overlooked piece of land.
Together we tackled trash that fills this site. We hauled away 22 bags of trash, that is 326 pounds worth! 6 bags of recyclables that is 90 lbs worth! And another whopping 104 lbs of bulky waste like tires auto parts and garbage cans.  Together that is 520 pounds of trash that we removed from the environment! Removing this from our watershed also reduces the amount of harmful phosphorus entering our water bodies.
THANK YOU so much for your enthusiasm and hard work! Your time and efforts you shared at Collins Ave helped improve water quality in our watershed! We couldn't have done this without you!
Thank you so much,
Amber
Amber Mallm
New Jersey Watershed Ambassador WMA12
Monmouth County Division of Planning
One East Main Street, Freehold, NJ 07728
(732) 431-7460 x7466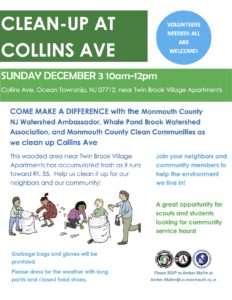 Please join us!
Questions? Please email us at WhalePondWatershed@yahoo.com